Alkalee and EPICNPOC collaborate to enhance the in-vehicle user experience from innovation to production.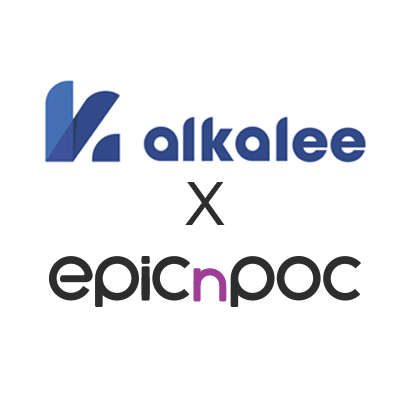 Today ALKALEE and EPICNPOC signed a MOU to collaborate on a software solution that enables safe and efficient feature integration throughout the development, production and life of vehicles. This solution addresses the challenge to keep smart transportation technology fresh all the time.
The combination of ALKALEE's real-time framework with EPICNPOC's user-oriented software enables new products to enjoy on-the-go feature discovery. Both companies use a distributed and service-oriented-architecture (SOA) for heterogeneous systems – enabling a flexible, robust and iterative development process.
Developing complex systems in real time with meaningful user experiences is a growing challenge that needs to be addressed in many domains: automotive, railways, aeronautics, mobility, home intelligence, industry 4.0. ALKALEE and EPICNPOC are proposing methodologies, tools, software architecture and a reference platform for agile and incremental implementations.
"Our two companies aim to change the world by bringing a digitization culture into the creation and engineering process.  We'll not only enable our customers to make better products, but also help to modernize their development."
Pierre Sigrist, CTO of epicnpoc
"Bringing new user experiences from the proof-of-concept to the final product in a continuous and safe workflow remains challenging. By combining a formal-based heterogenous real-time framework approach with user-oriented software platform, we will be able to accelerate the digital revolution of mobile vehicles."
Laurent Le Garff, COO of Alkalee
About Alkalee:
Alkalee is a French startup created in 2020 that provides an embedded software platform and development tool suite to enable an open and agile mobility industry. Alkalee's solution enables the sharing of data and computing power in centralized vehicle computers. This allows OEMs to accelerate the digitalization of vehicles through open collaboration with an evolving software supplier community. Leveraging a formal computing model developed and patented by CEA, automakers can efficiently manage the coordination of heterogeneous features throughout vehicle development, production and life. Located in Orsay, please visit www.alkalee.fr to learn more.
Media contact :
About EPICNPOC:
Founded in 2018 by an expert team of innovators, designers and software developers, EPICNPOC is a thriving French startup that serves the automotive, mobility, IoT, smart home, exhibition and retail industries. Experts in the design and engineering of the user experience, we enable your teams to create smart products – better and faster. EPICNPOC's portfolio includes project support, research & consulting and software tools & products. Our software-centric approach and proven methodologies develop meaningful experiences, accelerate your innovation and provide a rapid path to production.
We have completed 20 high-profile Proof-of-Concepts in collaboration with global corporations, government and educational institutions.  Our partner network is a testament to our promise to promote teamwork, advance innovation thinking and simplify complex systems. Partner with the team at EPICNPOC to Make Your Experience Real. Learn more at www.epicnpoc.com and  www.experience-library.io
Communication Contact:
Michele Muir
Michele.muir@epicnpoc.com
+1 734-735-1445