VIVOKA and EPICNPOC announce collaboration to leverage voice input to enhance human-machine interfaces.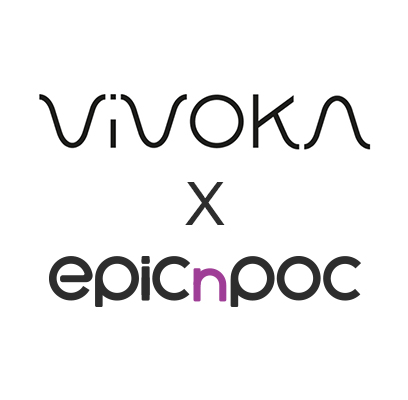 Today, Vivoka and EPICNPOC signed a MOU to deliver a multimodal HMI development platform by combining voice input with graphical user interface, script recognition, gesture, audio and lighting. Vivoka's Voice Development Kit (VDK) will be integrated into EPICNPOC's software architecture and offered in both product and service solutions.
The integration of Vivoka's technology with EPICNPOC's open distributed-system modelling and service-oriented architecture allows companies to easily create smart products with secure, multimodal, multiuser interaction. The ability to provide intelligent and safe interactions is a challenge that needs to be addressed on many domains including smart home, retail, and smart furniture.
To launch the collaboration, Vivoka's VDK is being integrated into EPICNPOC's BOWL™ Smart Home to power the new research platform for SMART-LIFE at the UCA University in France. The project will deliver a multiuser Voice Personal Assistant. To learn more about the UCA project, please visit EPICNPOC's 2020 press release of the signature event .
BOWL™ is an experience kit for project leaders comprised of a set of functional software, hardware, and tools. The kit allows users to design, develop, validate and test new smart home experiences. BOWL™ is now available with voice recognition combined with an extensible set of displays, user recognition, individual audio, script recognition, lighting and open interfaces to home.
The VDK is a speech recognition software specializing in offline voice technologies. It allows companies to easily and quickly integrate speech-to-text, language processing and voice synthesis into their applications and devices. The inherent complexity in the technologies and associated plugins have been abstracted and optimized by the by the Vivoka team through 5 years of experience in VoiceTech.
"It is ideal for epicnpoc to collaborate with VIVOKA to provide a natural and intelligent HMI modality to humanize and enhance digital systems. This allows epicnpoc to offer a rich multimodal HMI where our clients can revolutionize smart device interaction – addressing all cultures/languages and all markets from smart home to retail and smart furniture."

Bertrand Stelandre, CEO of EPICNPOC
"The integration of Vivoka's VDK into BOWL™ Smart Home offers new intelligent interactions via their multimodal HMI development platform. This collaboration is an excellent opportunity to add voice to use cases that may have not been considered, to expand our market and explore new horizons."

William Simonin, CEO of Vivoka
About Vivoka:
Vivoka is a French company located in Metz and created in 2015 by William Simonin. Thanks to its innovative solutions, Vivoka has become the French leader in voice recognition. The technology has won multiple prestigious awards including the Green Tech award at the ADEME (French Environment and Energy Management Agency) organised by the Ministry of the Environment, the coveted CES 2019 Innovation Award and the CES 2020 Smart Cities Innovation Award. It supports more than 50 languages for Automatic Speech Recognition, Text-To-Speech and Wake-Up-Word.
Driven by a dynamic team of about 30 employees, Vivoka has doubled the number of customers this past year with over 30 international clients. The company plans to conquer other European countries in 2021, after having strengthened its status in France.
contact@vivoka.com
www.vivoka.com
About epicnpoc:
Founded in 2018 by an expert team of innovators, designers and software developers, EPICNPOC is a thriving French startup that serves the automotive, mobility, IoT, smart home, exhibition and retail industries. Experts in the design and engineering of the user experience, we enable your teams to create smart products – better and faster. EPICNPOC's portfolio includes project support, research & consulting and software tools & products. Our software-centric approach and proven methodologies develop meaningful experiences, accelerate your innovation and provide a rapid path to development.
We have completed 20 high-profile Proof-of-Concepts in collaboration with global corporations, government and educational institutions. Our partner network is a testament to our promise to promote teamwork, advance innovation thinking and simplify complex systems. Partner with the team at EPICNPOC to Make Your Experience Real. Learn more at www.epicnpoc.com and www.experience-library.io
Communication Contact :